This week, we're in the Rhone Valley, looking at a lesser-known, 'peppery' grape: Counoise!
The Rhone Valley is home to some of France's best red blended wines. From the Cotes du Rhone Villages, to the appellations of Ventoux and Gigondas, up to the prestigious plantings of the Chateauneuf-du-Pape, this French region produces world-class
Grenache
,
Syrah
, and
Mourvedre
blends.
But Grenache-Syrah-Mourvedre (or 'GSM' for short) aren't the only wines grown in this beautiful region. Indeed, the region also grows some fantastic, if lesser-known grape varietals, such as the soft, 'peppery' Counoise.
Counoise (pronounced "Coohn-waaz") is a red grape varietal that has traditionally been used mostly in blends in Cotes du Rhone's most prestigious appellation: the Chateauneuf du Pape. Although not as well-known as Shiraz, Grenache, or even Mourvedre, it is prized by many winemakers for its ability to 'soften' the tannins produced by other red grapes, which makes the wine more approachable and easier to drink. Counoise also adds a trademark 'peppery' or spicy note to blended reds, as well as having flavours of plum or wild raspberries.
In addition to its use in the Chateauneuf du Pape, it is also sometimes used to produce red wines in southerly Languedoc and it makes for some interesting rosé wines in Provence. Outside of France, Counoise has recently gained popularity in Washington State and California, where it is often made without blending and bottled as a varietal wine. As with blends that use Counoise, these 100% Counoise wines tend to have spicy, peppery notes as well as hints of vanilla and raspberries on the nose and deep, earthy flavours. The best food pairings for Counoise wines tend to be dishes that compliment its peppery notes, such as Peppercorn New York stirploin stake, sausage jambalaya, or rosemary chicken w
ith red potatoes.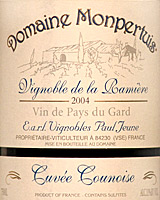 Counoise grapes tend to ripen late and give off only moderate yields, making them poor value-propositions for winemakers looking to get the most for their space and work. However, its versatility in complimenting the biggest red grapes in the world as well as producing interesting and complex single-varietal wines is unmatched. So, the next time you're looking for something different or picking up a bottle of Chateauneuf-du-Pape for a nice dinner, ask if it's made from Counoise -- if it is, you may be in for a treat!
The Short Version:
Names: Counoise
, Counoise noir, Damas noir, Moustardier
Flavour Profile:
Peppery and wild raspberry notes on the nose, with earthy flavours on the palate.
Main Regions:
Cotes du Rhone, Washington State, California
Price Range:
$15-$30